Batch Pastries Cake Menu
Inspired by and named after some of our favorite parts of Oakland and the East Bay
We are proud to use fresh, seasonal fruits, locally sourced ingredients, and inventive flavor combinations.
House cakes come in 5" and 6" and most flavors are available daily.
Call to see what we've got in our case
5" serves 8-10
6" serves 10-12
Golden Gate
American-style spiced carrot cake filled with cream cheese frosting
Tuxedo
Gluten Free chocolate cake with white, milk, and dark chocolate mousse, finished with chocolate buttercream
Redwood
Rich chocolate cake filled with dark chocolate mousse and raspberries
Fruitvale
Moist white cake filled with lemon, orange and blood orange curd, Italian meringue buttercream finish
Grizzly Peak
Dark chocolate cake, chocolate salted caramel mousse, caramel, and salted caramel buttercream finish
Strawberry Canyon
Light genoise cake, vanilla mousse, roasted strawberries tossed in balsamic vinegar, finished with Italian meringue buttercream
Jack London
Almond sponge, Mr. Espresso coffee mousse, chocolate buttercream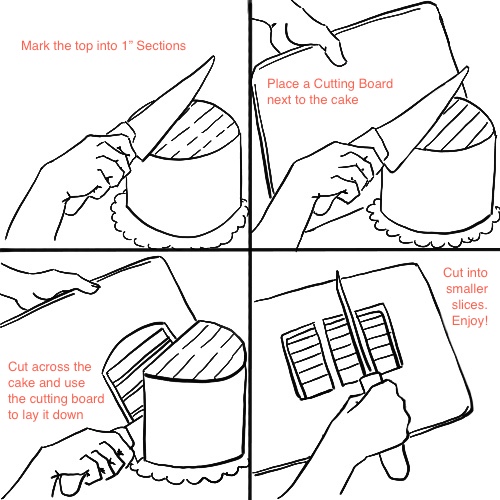 Our house cakes are tall! To cut tall cakes, we recommend following these instructions
Our House cakes in 5" and 6" sizes come only with our house designs.

For custom designs, we require a minimum of a 9" cake (to serve 15-18 people), three days pre-order, and a deposit of 50%.
See examples of custom cakes here.
Cupcakes
Stop by to see what's in the shop. Flavors change daily.
Special Orders: One Dozen/flavor minimum Regular size, two dozen/flavor Mini size

Three days notice required
Lemon Cream
Buttermilk cake filled with lemon curd and topped with lemon buttercream.
Strawberry Shortcake
Sour cream shortcake with a strawberry puree filling, topped with cream cheese frosting and garnished strawberries.
Carrot Cake
Lightly spiced carrot cake, nuts and raisins optional, filled with cinnamon cream cheese frosting
S'mores
Graham cracker and chocolate layers with moist chocolate cake and marshmallow frosting (made without gelatin)
Double Chocolate
Chocolate cake with chocolate chunks in the center, topped with dark chocolate ganache and finished with a chocolate garnish.
Chocolate Raspberry
Chocolate cake filled with raspberry puree
Churro
Graham cracker cinnamon cake paired with graham cracker cinnamon cream cheese frosting
Red Velvet
Red velvet cocoa cake with creamy cream cheese frosting